Sweet Dreams 2335.05.15*
Written By:
Razzle C.
(2012 Treasure Hunt) Coyote's storytelling leads to pleasant dreams for young Beetle...
Posted: 09/07/12 [11 Comments]
---
Collections that include this story:
---
2012 TREASURE HUNT CLUE #7: What reason does a brother give his sister for why fish sparkle? (Answer: In "And Whether Fish Have Wings", by Angie, Coyote tells Beetle a story in which "Once fish were a kind of bird and they had very shiny feathers on their big wings and they were all over the place.")
(Ed. Note: Coyote was a former name of Notch's.)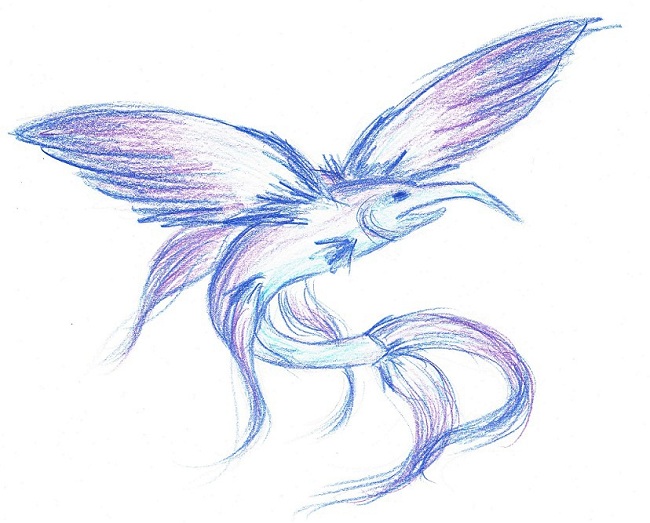 Illustration by Peggy B.



As Beetle drifted off to sleep, snuggled up against her mother's soft side, her curious mind was still full of the wild images of flying fish that Coyote had told her about earlier that night. The fantastic creatures filled her dreams...

Iridescent blue and purple feathers covered him, that glorious long-nosed fish. He twisted and flew through the air before her, in a motion very like swimming. He twisted closer, looming larger until the tip of his ridiculous bent nose almost brushed Beetle's. "Come with me, little elf girl!" he invited in a silly fish-voice. "Ride on my back and we'll fly around under the moonlight!"

Beetle hurried to jump on, accepting the invitation without hesitation. A small part in the back of her mind wondered if the silly fish would try to fly to the moon and they would both fall, but she ignored that part.

As it turned out, he didn't fly towards the moon, but darted through trees, fluttered around the Holt, zipped back and forth across streams, and flew low through tall meadow grass. Together, Beetle and the fish she rode poked their noses into whatever every elf and animal around was doing. They watched birds feeding their babies in their nests. They nosed around elves fletching arrows, dying leather, eating dreamberries. Beetle and the fish followed a squirrel around while it tried to find places to bury nuts. It was just as Coyote had said; the elves and animals reacted with annoyance, and several tried to shoo them away, but Beetle and the fish were undeterred in their thirst for knowledge.

So it went through Beetle's dreams, and when the ride finally ended and the fish let her dream-self slip gently back into her bedfurs as her real-self drifted back towards wakefulness, the cub was more determined than ever to find out everything and anything she could about the wonderful world around her.


Collections that include this story: