Daydreams of Death 2511.02.16*
Written By:
Razzle C.
(2012 Treasure Hunt) After near disaster for two highthings, Mushroom obsesses over what might have been and what could still be.
Posted: 09/03/12 [7 Comments]
---
Collections that include this story:
---
2012 TREASURE HUNT CLUE #3: We were depicted as Death and Dream. Who are we? (Answer: Fadestar and Farscout, in art by Linda A. for the 2010 Comics/Manga AU Contest.)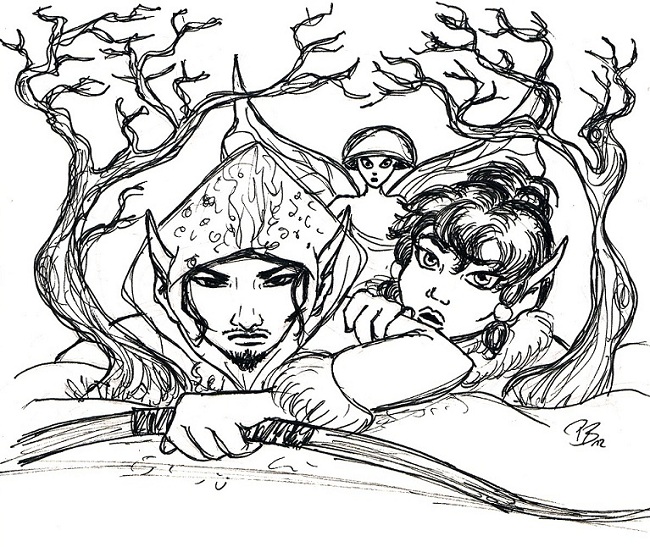 Illustration by Peggy B.



Mushroom had been warning highthings for countless years
But highthings seldom paid much attention to its fears

"Hush, Mushroom!" with a soothing pat from a hand
Mushroom sees many dangers, highthings don't understand

Sad-Eyes Highthing fall, red blood in the snow!
Must be more careful, didn't she know?!

But a worse danger still was yet waiting ahead
When they saw it, it filled even highthings with dread

Many-Gone Highthing remembers, just like Mushroom
Many, many, manydark ago, highthing's family's doom

New to Sad-eyes Highthing, she doesn't know what to do!
But Many-Gone Highthing knows, he finds hiding for two

But what if bad bigthings had found highthings, crouched by the tree?
Would they have broken highthings like birdbaskets, chuckling with glee?

What if bigthings STILL found them, follow highthings' trail?
Would they break many bones? Pull off a poor growler's tail?

Make Sad-Eyes Highthing more sad? Many-Gone Highthing lose more?
How can a poor Preserver predict what dangers lie in store?

Would Mushroom see highthings with eyes looking blankly at the sky?
Leaving other highthings behind to send them away on rafts and cry?

"Farscout, keep me with you! I can still help!" Sad-Eyes Highthing demands
"No, Fadestar," comes the reply -- leave it in Many-Gone Highthing's hands

Mushroom worries for Many-Gone Highthing, watching bigthings alone among the trees
Or will bigthings find the pawprints of the growler between Sad-Eyes Highthing's knees?


Collections that include this story: