---
They say beware the skies at dawn when red —
"The clouds will warn that there is rain to come."
And then, red skies at night — "The storm's all bled —
The clouds will pass and rains will cease to drum."

The rains had poured, indeed, the day before.
The water fell like sheets from angry skies
And soaked the ground 'til it could hold no more.
But mostly'd stopped at Mother Moon's late rise.

And so, our team of hunters gathered 'round,
With wolf-friends, too, all anxious for the chase;
For scouts had ridden out and they had found
A herd of deer not far from Bluespear Lake.

We headed south — our little hunting band
A hand and one of us, or somewhere 'round
That. Wolf-friends raced, fleet-footed, over land
While I, above, kept eyes glued to the ground

To search for signs of prey as we drew near.
We turned toward sun-comes-up so we could cross
The river — it was low this time of year;
The summer's heat will cause this water loss.

The hunter's group had halfway crossed that bed —
To try and clamber to that rocky ground
Across the bank, when I — there overhead —
Distinctly heard a low and rumbling sound.

And quicker than the ones below could cry
Or quicker than a flying elf could act
A wall of churning water thundered nigh.
And rapid' down the riverbed it tracked.

The ones below, they surged toward the shore
To try to dodge the fast, incoming wave
But I could tell that three of them — no, more! —
Were too far in, so I swooped down to save

An elf! A hand wrapped closed 'round mine and I
Pulled with all my might! I knew Bearheart
Was much too large to lift, but I would try!
I dragged him toward a rock; he did his part.

We watched that wall of water drag the rest —
Beesting, Sunlight, Tallow — under tow
And out of sight. My friend and I did best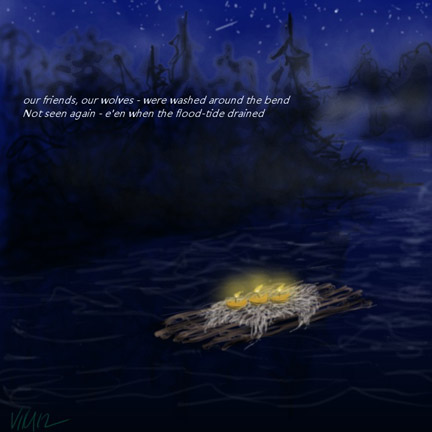 Illustration by Rachel V.

To hold against the water's churning flow.

And when the flood's fast surge came to an end,
Bearheart and I were all that had remained.
Our friends, our wolves — were washed around the bend
Not seen again — e'en when the flood-tide drained.

We howled our sorrows to the tribe with sends
Regretting simple cautions we had spurned.
It took the lives of closest, dearest friends
To see what costly lesson we'd re-learned:

They say beware the skies at dawn when red —
"The clouds will warn that there is rain to come."
'Ware, too, red skies at night — "The storm is bled,
But floods will rise long past the rain's last drum."