Second Best 2503.07.13*
Written By:
Whitney Ware
(2010 March/April Fic Trade) Thornbow knew far too keenly what it meant to feel like second best.
Posted: 04/19/10 [10 Comments]
---
Collections that include this story:
---
(This story is a part of the "Wrapstuffed Tribemembers are Healed and Rejoin the Tribe" and the "Brightwood emerges from wrapstuff, and Aftermath" storylines -- see listings for related stories.)



Thornbow looked up from the bow he was crafting at the soft scuff of footsteps on the branch-bridge outside his den, where the Father Tree reached out to twine its branches with the Child Tree. He found his sister Honey standing in the arched doorway, looking in at him anxiously.

"May I come in?" she asked.

"Of course," Thornbow replied, as he always did. Honey was his most regular visitor, since her having been removed from wrapstuff. And tonight of all nights, he had expected her to seek his den out for refuge. Even now, in the cocoon-den beneath the intertwined roots of the hometrees, Willow was waking Brightwood and Brightwood's unborn baby. Word had flashed through the Holt only a few hours ago that Willow had defied both the command of her chief, and the wishes of Brightwood's immediate family, by opening Brightwood's cocoon. Thornbow figured that if Brightwood hadn't died immediately, like poor Fletcher, that it meant that Willow was having some success in healing the last of the tribe's sleepers; just the same, it was also worrying that it hadn't taken this long for her to wake any of the others.

"I didn't see you down in the Gathering Den," Honey said as she took her graceful seat on the edge of his bed. "Everyone else seems to be down in the Gathering Den, waiting for word. Everyone is so scared -- or angry. "

Thornbow glanced at his sister's face and was not surprised by the expression of deep unhappiness she wore. He watched how she plucked aimlessly at the white fur trim of her tunic, and saw how her lips twitched as she almost said something – but chose, at the last moment, to remain silent instead.

"Everyone was much happier when we were waiting for you," Thornbow offered, taking an educated guess as to the turn of her thoughts. He accented his words with a shared memory, of sitting at his sister's bedside as she woke, and of hearing the chatter of happy voices filtering down from outside.

Honey glanced up, her yellow-green eyes surprised that her older brother would guess so accurately where her thoughts had wandered. His reward was her beautiful smile – but to his dismay, that smile began to fade within moments.

"Brightwood will have a much happier welcome back than I did," Honey said morosely. "Do you think Farscout will get back in time, before she wakes?"

"I don't know. I hope he can. " Thornbow was oiling the bow shaft he was crafting. He dabbed his patch of suede into the bowl of boiled linseed oil, and applied another layer with strong, economical strokes. "I do feel for Farscout. And I would have been furious, if Willow had done that to us with you, if we'd had any doubt she might have had difficulty in healing you. "

Honey's eyes shone with gratitude for that. "But you had no doubts. Right? None of you did, when you asked Willow to open my cocoon?"

"None of us had a moment's doubt," Thornbow assured her, again guessing at the twist and turn of her thoughts. "If we'd had any fears for your safety, none of us would have allowed Willow to touch your cocoon."

Honey seemed to search his face for a moment before accepting that reassurance. "Brightwood is lucky. She's going to wake up and have her life back, just as it was when she went into the cocoon. Farscout will be right there, waiting for her, as though she'd never left him." She sighed deeply. "She won't know how lucky she is."

It did not take a devoted brother's lifetime of experience with Honey and her moods to hear the deeper things she was thinking. He could have countered that Brightwood had lost most of the tribe she knew. But Thornbow knew she was thinking only of the romance of lifemating, and the failure of her own. Privately, he rather thought his sister was better off without Greenweave. Greenweave's heart has always belonged elsewhere, and it had grieved Thornbow to watch how much his sister had suffered, trying to hang onto something that could never be. He gave her a sympathetic glance, wishing there were some words of comfort that would heal her. He had never been able to find those words.

"Brightwood already knew her family was dead when she went into her cocoon. She won't have to wake up and deal with that," Honey said, looking wistfully out of the window and thinking, no doubt, of their own father, Birdcatcher. Thornbow nodded sympathetically. In truth, comparing Honey's experience to Brightwood's much, much longer time in a cocoon was like comparing an otter to a marshbeast bull. Two entirely different creatures, but both of them had their place. He continued working at his craft, letting his sister purge herself to his willing ears. There were others in the tribe, he knew, who would be far less sympathetic, or who would take her words at their surface value, instead of understanding what she really meant in her heart.

"She won't have any trouble finding her place in the tribe, either. No one will tease her or mock her – and if they did, I bet Farscout would pound on them for it," Honey continued mournfully. "It will be easy for her. But it's not so easy for me. I've been struggling for days to convince Mooncrier she wants me; Mooncrier will probably take one look at Brightwood and turn her tail on me. And I'm still fighting to be allowed to join the hunters – but I bet Brightwood will be allowed to just ride to the hunt without questions from anyone, even if she's fat with child."

"If she's heavy with child, I think Farscout might have something to say about that, don't you?" Thornbow offered.

Honey shrugged, and heaved a heavy sigh. "I just wish I were so lucky as that. It just makes me feel so empty, you know? Everything I've ever wanted – and I can only watch her enjoy it."

"Farscout would bore you dull, sister – you've already told me so yourself," he teased her gently, deliberately misunderstanding her.

Honey shrugged again, sunk too deep to rise for his weak bait. "No, I never had a chance, not with Farscout. But I wish I'd had the good fortune to Recognize someone like him, someone who would have loved me and only me, and been willing to wait for me for centuries, if he'd had to. And we would have had a beautiful child together, too, one who'd never…" Honey sighed again and wiped a tear from the corner of her eye.

"Dreamflight accused me of leaving her – as if I had been well enough to make the decision to go into wrapstuff myself? Dreamflight had more of a hand in that than I did, but she blames me for it, and blames me too for Greenweave not staying true. Dreamflight used to be such a sweet and loving child, but I don't understand her anymore."

Thornbow wisely held his tongue. Like mother, like daughter – as he saw it, his niece had Honey's own gift for fancy, and for seeing the world not as it truly was, but only as Dreamflight wished it. Honey surely didn't have sole claim to self-absorption, or to wishful thinking.

"Why am I so alone?" Honey asked, and fresh tears welled up with those words. "I'm so alone! It's like my entire life, I've only been good enough to be a second best choice. And I hate it!"

She gazed miserably at Thornbow, desperate for an answer. He set aside his unfinished bow at once, and opened his arms to her. Honey went gratefully into his embrace, and clung weeping to his shoulder. Thornbow murmured soft words of comfort and stroked her hair and shoulders, letting her cry herself out.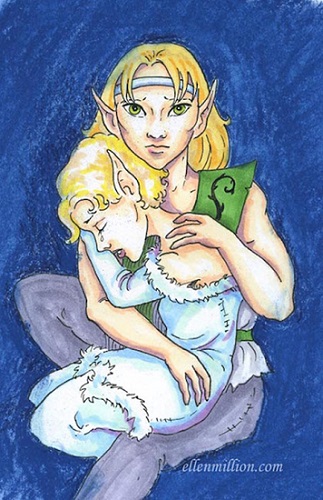 Illustration by Ellen Million

"I'm never first, never first to anyone," she wept.

His sister's misery triggered unexpected shadows in his own heart. Thornbow knew too intimately the taste of his sister's complaint. He knew what it felt like to be overlooked. He knew it far too keenly. Thornbow himself had loved and lost, more than once. He had adored Windsong once… but then lost her to Suddendusk. Quick Fang had been harder to learn to love – but he would have been willing to lovemate her, had she ever asked him. But no… while she was still an eager furmate, he had lost his chance to hold a special place in her heart. And even Windburn, his closest friend since their days together as cubs… since becoming chief of the tribe, Windburn had ceased to rely on Thornbow's cautious counsel, and turned ever more often to elders like True Edge for support. It wasn't lost on Thornbow, either, even though the Hunt Leader considered Thornbow a steady and valuable hunter… it wasn't Thornbow who Blacksnake was grooming to someday be his replacement.

Thornbow glanced aside, at the bow he had been crafting. With his hands, he built the best hand-crafted bows in the tribe. But he had handled bows shaped by Windsong's mother Sunlight. Like her father Cedarwing before her, Sunlight had been a skilled archer, and the bows she had shaped had been stronger and more supple than anything Thornbow himself could craft. For years, his pursuit of perfection in a bow had been merely a struggle to recreate the feeling of one of Sunlight's weapons in his hands. Cloudfern had never mastered the bow as Sunlight had; he shaped serviceable weapons, but never the masterpieces that had come to life under Sunlight's deft and knowing talent. And now Brightwood had returned to the tribe. She was a talented plantshaper, Thornbow had been told. And a very skilled archer as well. In this one area, Thornbow had achieved dominance among the tribe. It was his quiet pride and joy. And tomorrow… maybe… when Brightwood was back among the living and exercising her talents…

No. Thornbow knew far too keenly what it meant to feel like second best.

"You are always first in my heart, sister," he told her, nuzzling her short golden curls. "To me, you are always first."

Honey hugged him, but her weeping didn't cease. And Thornbow knew then, with a touch of weary, soul-sick amusement, that even as he gladly provided the younger sister whom he loved with every support and comfort he could… that when Honey wept for herself, she took his love for granted.

"Ah, sister," he murmured against the top of her hair. "What a pair we make." And if Honey wondered why he was laughing, she did not interrupt her weeping to ask.


Collections that include this story: