---
Collections that include this story:
---
(This story is a part of the "Wrapstuffed Tribemembers are Healed and Rejoin the Tribe" and the "Fletcher emerges from wrapstuff, and Aftermath" storylines -- see listings for related stories.)



Little feet stepped down the stairs, hushed not to make too much noise. Shadows went ahead of the cubs, who held hands. They walked carefully and slowly but determined to reach their goal, carrying bowls with fresh dye.

Wide eyes looked around in the room they both had spent so much time sleeping in. Each of them squeezed the hand of the other to show support and comfort for each other. A short look was exchanged; then a nod. Newt led Fadestar over to the last cocoon and put his bowl down on the ground. A watchful Preserver fluttered by, making sure nothing happened with the one remaining wrapped elf.

Fadestar followed Newt instantly. Newt had been in the den since his unwrapping, but Fadestar had not. However, both of them took a moment to look at all the handprints and painted scenes in the cave. The many-colored prints in all sizes on the walls and on the biers made her chew her lip; thankful for all the support they had received while sleeping.

Once, she had placed her hand print. She spotted her old hand print on Brightwood's bier, but it had faded somewhat. Fadestar wanted to renew her support to Brightwood, who, according to the cubs, now needed that more than ever.

She knelt down, and after a short hesitation, she dipped her hands in the bright red dye. While she pulled her hands up, she watched the paint dripping off her fingers, like fresh blood. She shivered. "I should have picked another color," she breathed. "Do you think she would mind?" There were more red prints, however, and she watched how Newt also dipped his hands in the paint.

Newt chuckled. "No, I don't think so," he said. "She was a huntress and very passionate. She liked the hunt and the thrill of it. I think she'd like it."

He looked at the green he had chosen. He had picked it randomly; more out of his belly than with any thinking. Then he dipped his hands in as well and looked for a little free space. "I think here is some room," he said, pointing at the bier.

Fadestar nodded, and because she was closest by, she carefully moved her hands towards the bier, placing them over her own slightly faded prints, under Newt's watchful eyes. She pressed hard, before she pulled back. A tiny drop left the shape and made its way down, but stopped quickly. "Now, you," she insisted, moving a little aside.


by Linda



Newt gave a firm nod and added his handprints next to hers. "We watch over you as well, Brightwood. Farscout and Cloudfern are waiting for you," he said and bit his lip. He took his hands back and wiped them over his face without thinking. There was a bright green line on his pale face now.

Fadestar closed her eyes and had a serious look on her face when Newt spoke, and her eyes fluttered open when she heard him move. She suppressed a giggle when she saw the bright paint on Newt's face, and an idea came to her mind. "Wait," she said, dipping her finger in the red paint again. She moved closer to Newt's handprint, and with one stroke of her finger, she had drawn a simple red line similar to a newt, over Newt's green hand print. Then, she dipped another finger in the green paint, and drew a quick star on the palm of her own red hand print. "Now she knows it's us," she told Newt, looking at the cocoon which had been decorated with feathers and beads over the years.

Newt looked at the prints and chuckled as well. He dipped his fingers in the red paint and smeared it over her cheek. "Now we are even," he said with a grin. His smile faded a little. "Do you think she'll be all right?"

Instinctively touching the paint Newt just smeared on her, her face became even more smudged, and she snickered, before they both turned to the cocoon. Fadestar didn't know how to answer that question. Instead, she entangled her fingers with his, mixing the green and red paint on their hands. "Yes," she finally said, "I think she will."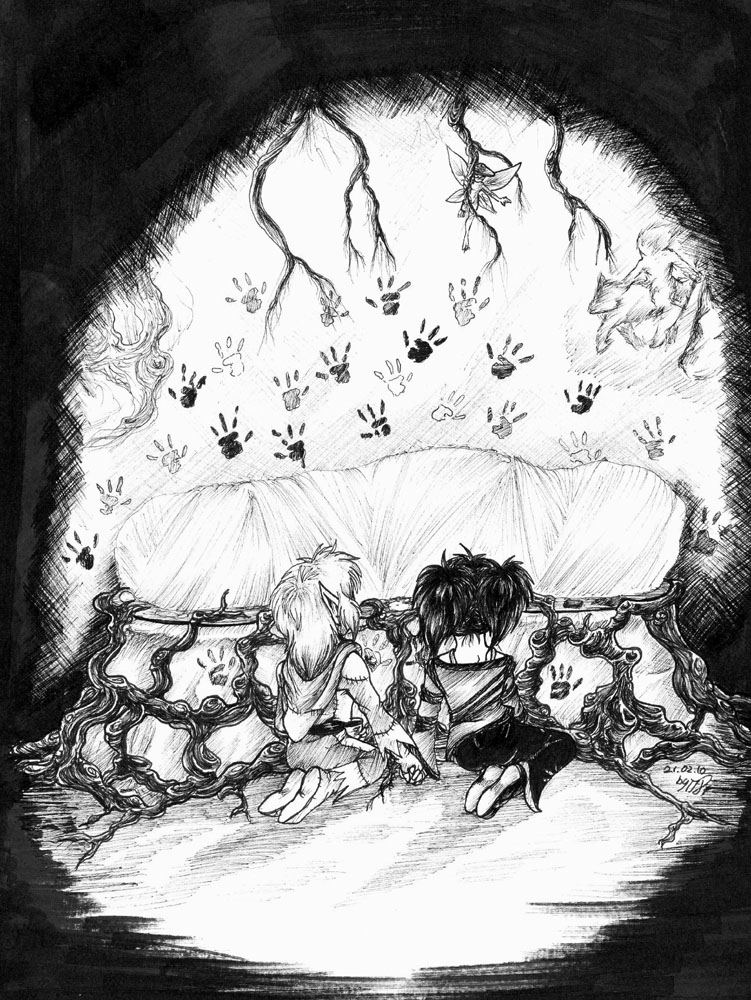 by Melanie
Collections that include this story: