---
Collections that include this story:
---
The journey out had been spent in silence that Windburn couldn't quite pin down. Silence between him and Farscout — or between Farscout and anyone — was by no means rare, but with their goal being what it was he'd have thought there'd be some exchange of words.

Our stores are full of salmon and hunting has been good, Windburn reminded himself. The Fierce Ones went back to the Vast Grasslands a moon ago. I should be grateful for this calm. And yet he couldn't relax his shoulders, couldn't stop glancing back the way they'd come, couldn't stop listening for branches breaking or horns sounding in the distance.

It could be the company, Windburn had to admit. Farscout was the tribe's best scout; he'd proven that before Windburn had drawn his first breath. If you wanted someone by your side far away from the Holt, an elf couldn't do better than Farscout. Windburn knew that. But in the back of his head, in his gut, he'd always regretted how things had turned out between the two of them. When Windburn had been a cub Farscout had been a mentor to him, teaching him how to carve and decorate bones. But then...then Windburn had become chief and things had changed. Not that Farscout had ever questioned any of his decisions. He'd just seemed to look to Blacksnake first, when it came to leadership.

I'm digging through mud to find bears, Windburn thought and shook his head, aiming to chase away worry and discomfort. Whatever was between Farscout and him or not was neither here nor there. Especially with how much better things were looking between him and Blacksnake of late.Might as well blame the weather for my jumpiness.

Showers of rain had accompanied them on their ride to the Holt's eastern territorial edge. Though they'd worn clothes fit for the weather, their hurry to get to their destination hadn't allowed them to wait out the worst of the rain. Getting to the borders of the tribe's territory took its fair share of time, even if they rode as the birds flew, and they needed to be back at the Holt as soon as possible. The tribe had been split up for too long and they needed their chief.

But Windburn also needed to see where Farscout and Fadestar had encountered the Fierce Ones. Sendings gave details that words couldn't, but shared thoughts were never as good as having seen a place with your own eyes. Farscout had been steadier in his sharing than Fadestar — understandably — but the presence of the Fierce Ones had been foremost in mind, leaving little room for exact locations.

It had stopped raining when Farscout finally brought Duskgreeter to a halt. Windburn earned an almost grateful huff from Murkfur when he dismounted — which spoke loudly of how long and hard this ride had been, as Murkfur on any other night would have whined about losing his rider. Hopefully exhaustion would make the unbonded wolf easier to deal with. With Whirl heavy with cubs Windburn hadn't wanted to strain her with this rushed journey. Murkfur had seemed the obvious choice among the unbonded, at the time, eager for a rider as he was. A hungry wolf can't turn his nose up at scraps.

The trees along the Holt's border grew further apart from each other than Windburn felt comfortable with and many were very young compared to the ones that stood near the Dentrees. Not far from here the forest turned into open land and rolling hills; perfect for hunting clickdeer…or being run down by the Fierce Ones and their horses.

Pushing aside such thoughts, Windburn turned to watch Farscout, signaling with a nod for him to begin his retelling of events.

Farscout took a step away from Duskgreeter and sent, **Fadestar and I took cover here.** He indicated some bushes behind a fallen birch. Though the warmer spring weather had given them new, green leaves, Windburn couldn't imagine they'd given much shelter a moon-turn ago.

**Where were the humans?** The words were too raw to be spoken, though sending them didn't feel much better.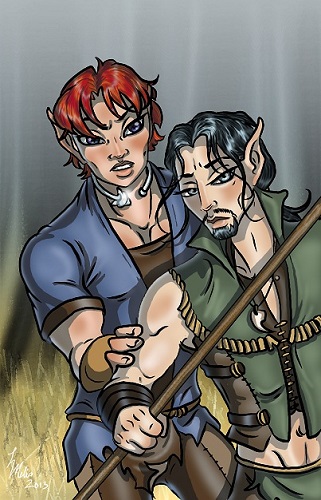 by Laura M.

Farscout spread his arms and gestured at where they were standing. Windburn's heart froze. Without thinking he grabbed Farscout's shoulder and turned him so they stood face to face.

"You were this close to the Fierce Ones?"

"Yes," came Farscout's matter of fact answer. "I did tell you."

He had. Of course he had. But to see it outside of a sending, to see with his own eyes how close the tribe had been to losing Farscout and Fadestar to one of the worst possible fates one could imagine — it struck Windburn like a fist made of ice, right in the gut.

Letting go of Farscout's shoulder, Windburn turned around to face the fallen birch. A row of thin twigs that couldn't have been called good cover even in the middle of summer, had been the only thing standing between the Fierce Ones and his two scouts.

Words escaped Windburn completely. In that moment he wanted to let Farscout know, wanted share what this news, this realization, had him feel. Yet the words wouldn't come and a sending would be too raw and open. Too vulnerable. And if there was one thing Windburn couldn't afford to show at a time like this, it was vulnerability. Especially not to someone like Farscout, who might be a reliable tribemate but not one Windburn would name as friend.

"We'll rest here, for a moment," Windburn finally spoke, once he knew he had his breathing under control. "And then we'll take a final turn around this area, make sure the Fierce Ones haven't left any food caches. After that we'll head back to the Holt."

Farscout gave a nod in answer that Windburn didn't have the presence of mind to analyze. He knew the chances were slim that the scouts had missed something as big as a cache or other signs that the Fierce Ones planned to come back here. Making yet another search for such things could even be seen as an insult to the scouts. Yet Windburn knew he would lose many days of sleep if he'd gone all the way out there again and not double-checked. It would be like dousing a fire with water and then not going back to see it had really gone out.

Farscout had settled down by one of the trees, Duskgreeter at his side. His face betrayed no thought, bad or good. If he thought Windburn's last order to be a waste of time or a good idea, not a twitch betrayed his opinion.

Windburn shook his head. He couldn't waste time on worrying what others might think about his actions, not now.

Matching Farscout, Windburn sat down to rest. He had a lot to think about and little time in which to make plans.
Collections that include this story: