---
Collections that include this story:
---
Warmed to its serving temperature as a winter wine, the malodorous brew before One-Leg didn't smell at all like anything an elf would want to be served.

"Another bad batch," sighed the pale lad across from him. "I bet it tastes as funny as it smells,"

"Don't fret, Newt. Everyone has to learn before they can succeed," Starskimmer side-hugged the lad as she talked. His face was awash with disappointment, but the brewmaster was determined to encourage him to try again. " It's a very… unique blend of ingredients you've chosen to work with, for a beginner. It will take time and trials to work out how much of which to put in, and when to add the spices, to get a proper wine out. Credit for trying, eh?"

"Thanks. I know you're right, but I thought I was real close this time to recreating Cider's brew." There was frustration in his voice, but no indication that he was about to give up. "I feel I'm missing something important. Looks like I have to go back to the beginning again." Intent on seeing the experiment through, Newt raised the cup to his lips, then immediately put it back down. "Urf, that's strong!"

"Tadpole's toes, boy, you can't learn to swim without getting wet! Take a swig and find out what is in there that shouldn't be, or what isn't that should." One-Leg had volunteered to taste test, and that was just what he was going to do. Even if he had to swallow a grimace along with his drink.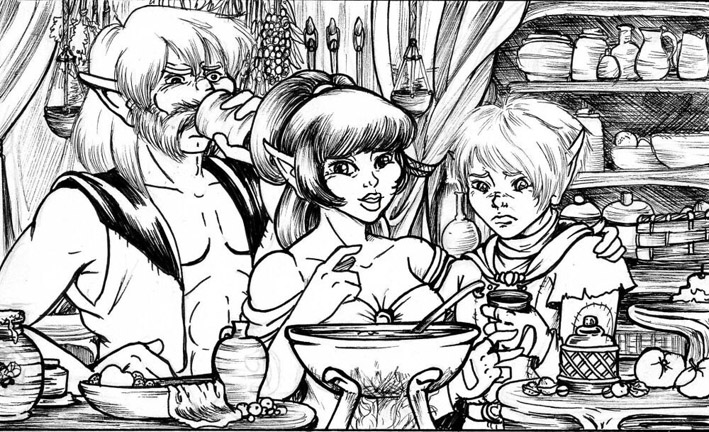 by Melanie D.



The young elf glanced upward, very briefly, as the elder cupped a share. "One-Leg, you're a braver elf than I." His voice was brighter, regaining his optimistic norm. But his nose was still under the spell of the foul smell.

Starskimmer gave the lad a nudge. "Oh, hush that talk. We'll get it right next time."

"It was a joke!" Newt insisted. "I'm fine, really."

One-Leg couldn't help but grimace when he brought the cup to his lips. Somehow, Newt had found a way to make fresh-picked fruit taste as though it had turned. Still, the tough old elf managed to get a mouthful down. No promises on how long it would stay down. His whiskers swished to and fro and he mulled over the bitter taste it left in his mouth, searching for the words he'd need to illustrate this uniquely unpleasant sensation. He found something that shouldn't be there, alright. Buried in all the dreamberry, blackberry, pipetree-berry, honey and spices, was the unnameable 'buzz' which dreamberries — fresh, unfermented dreamberries — never brought to a wine before…

His pupils dilated, and One-Leg was no longer looking at what was in front of him. He was Axehand once more, and he was making up games with his daughter…

"The idea then is to knock the hide-ball through all the poke-hoop sticks in one go?"

"That's the plan, Papa!" Flash had swapped out the standard issue stick-ball stick for her father's sturdy, weighty axe, just to add another silly wrinkle as children often did. "Watch me get it through all three!" She locked her eyes on the set of targets ahead of her to size up the shot. Wiggled her behind to work up momentum for the shot. Tensed her arms to bring up the axehead, and its considerable force into the shot. Then looked up to her father with a quirky grin on her face. "Um, I just noticed, I don't have a ball."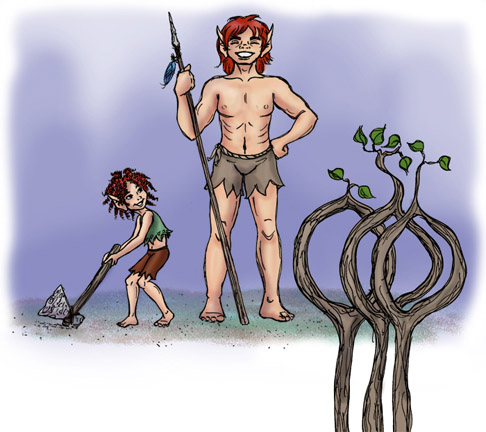 by Peggy B. & Heidi H.



One-Leg burst out laughing loud enough to shock Newt right out of his melancholy. "Yes, lad, it tastes funny! Funny indeed!" He slapped the boy on the back and walked outside chuckling to himself, and intent on finding Notch and making some fresh memories with his son. Leaving the two remaining elves to stare at each other wondering what had just happened.

Newt took another whiff of the cup in his hands, followed by a cautious sip.


Collections that include this story: