Deadfall 2512.04.20*
Written By:
Whitney Ware
(2013 Treasure Hunt) A lot of different thoughts can flit through a youth's mind in the moments between life and certain death...
Posted: 07/12/13 [5 Comments]
---
Collections that include this story:
---
(This story was an entry for Clue #3 in the 2013 Treasure Hunt -- see the collection for related stories and images! )



The flood had already carried away a dead tree, and it had come to a temporary halt with its roots tangled in the rocks of a rapids. That deadfall became their precarious lifeline when a branch caught against Newt's hood and fished them both up against it, out of the raging waters...

"Grab my hand!" Windsong yelled, straining to reach across the distance between them, her hand outstretched. Newt tried as hard as he could, struggling against the churning current, struggling to keep Evervale's head above water. The gap between their fingers wavered... but did not close.

The look in Windsong's eyes was a terrible thing. Newt did not think he had ever seen terror on the stoic huntress's face before. His own emotions were roiling, fear dominant, threatening to drown him as surely as the flooded river. 'Windsong thinks we are going to die,' Newt realized. 'Windsong thinks she is going to lose her daughter. Right here. Right now.'

The river thundered around them, dragging mercilessly at Newt's body, dragging mercilessly at Evervale's limp weight. 'This is how Sunlight died,' Newt thought then, remembering Windsong's mother, with the small sliver of his mind that could still function against the terror of his situation. 'The riverbank gave way beneath her and she fell into the flooded river. Beesting and Tallow went in after her, and they all drowned. Cloudfern said his aunt must have hit her head on something or Sunlight might have been able to shape a branch or a root or a downed tree to save them all. Evervale could save us with her plant-shaping if she would only wake -- and when I saw her slip and fall in, I couldn't stop myself from scrambling after...'

The Holt's River had always been his friend before. He had grown up playing in its waters, and gone to sleep listening to its constant song. All his life, he had been fed by its fish, had hunted crawfish and frogs from its shores, and drank of its water, which tasted of snow from the tops of mountains so distant he had had to travel to the northern edge of the tribe's forest to see them with his own eyes . It seemed an unfair betrayal that the river would try to suck them under its roiling surface now.

"Hold on!" Windsong shouted, withdrawing her hand. Newt watched that refuge shrink away. The branch against his back was shaking as the river tore at it as well, promising to rip the entire deadfall free from its moorings and hurtle it on downriver. With his left arm, Newt clutched Evervale's limp body and tried to calmly tell himself that when it went, he would have the strength to hold onto it with just his right arm. He could still save her, Newt tried to tell himself, struggling to bolster his own courage. He could still save Evervale, and himself as well. Newt did not believe the words, but he had to cling to something.

'It's all the fault of the Black Bull,' he thought, so wild a notion that in the chaos of the moment, it made a certain sense. He and Windsong and Evervale had enjoyed that afternoon's catch so much that they had made an effort to fish with each other more often. 'That old fish is getting its revenge on us for killing it, and winning the bet with Otter.'

Windsong had already crawled out as far as she could on the closest deadfall branch. Newt could see how the slender perch was swaying up and down from the battering of the flood. She leaned out for him again now, her headband in her hand. The green websilk seemed caught in a current of its own above the rushing water. It streamed toward Newt's hand, then swirled away. He strained to reach out for it, sensing this was truly his last chance -- and felt the websilk sweep into his outstretched fingers as though caught in a gust of wind.

With a cry of triumph, Newt closed his fist around that lifeline, and hung on tight.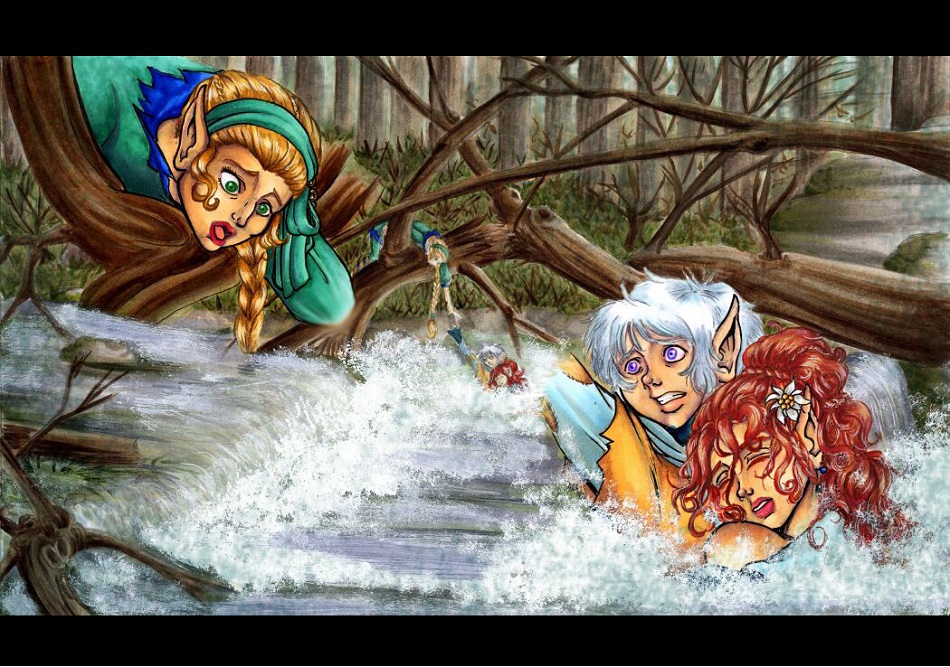 Illustration by Melanie D.
Collections that include this story: