---
Collections that include this story:
---
Goldspice looked out the small window of the den she shared with Moss. The sun was still shining, but she couldn't sleep. Next to her, she heard the sleep-sounds that Moss often made when he was slumbering deeply. She smiled a little and snuggled in close to him. The comforting weight of his arm fell against her and pulled her close to him. Breathing deeply, she took in his scent, the beloved warmth of him. She must've made a little noise because he patted her back and muttered something comforting. He didn't actually say anything discernable, but she was comforted none-the-less, at least for a little while. It didn't last, though. Finally, realizing that trying to sleep was no use, she pressed gently against Moss's side until he turned with his back to her. She rested for a few more minutes, waiting for his breathing to slow again and she knew that he had drifted back into a deep and peaceful sleep before she rolled out of the furs.

She wasn't sure why she couldn't sleep, didn't know what was bothering her. She had greeted her brother's mate earlier in the evening. She had been a little shy meeting Brightwood, a little in awe of the beautiful golden elf and her brother's proud smile … smile! Growing up, Goldspice would've given anything to see Farscout smile like that. But that wasn't what was bothering her. At least, she didn't think so. Everyone seemed a bit on eggshells talking about Brightwood's healing. It was a happy, joyous moment -- even though Willow had gone against everyone's wishes, they were all very glad that Brightwood and the cub were safe. Particularly after what had happened with Fletcher …

Fletcher …

Tears stung Goldspice's eyes, and she suddenly realized what had been bothering her. Quickly pulling her clothes on, she left her den and made her way to her forge. Once there, she quickly went a special cubby-hole, a place where she only put her most special creations, and pulled out a leather-bound package. So much had happened in the past few days, so much that she could barely remember coming back to her forge after Fletcher's cocoon had been opened, after Fletcher had left them all. She wondered, was his soul glad to finally be free?

Carefully unwrapping the leather, she finally looked at the heavy gold band that would, she had hoped, fit around Fletcher's wrist. She had secretly been working on this piece. She had been so proud of it, so happy to shape it into a present for her friend, not by magic, but by sheer force of will. He had gone into the wrapstuff only a few years after she had started her trade in earnest. He had been there to help her cut away the singed and stinking hair after that horrible accident that had nearly made her never want to touch the forge again. It was Fletcher who had encouraged her to try again, to not give up on her dream. And maybe somewhere, it was not just Ice's memory that Goldspice had been competing against as she tried to improve her skills. Maybe it was so that when Fletcher emerged again she could show him that he had been right. Tell him that she was glad she had never given up.

And now, she would never be able to. She knew that she had never been as close to Fletcher as his lovemates had been. No one could be as close to Fletcher as Flash and Whitestag, but the two of them had been close. Being agemates never guaranteed friendship. But sometimes it helped! Goldspice had always looked to Fletcher as a brother, the 'less-serious' more 'fun- loving' brother that Farscout could never be for her. She hadn't really shared with anyone just how much she had been looking forward to seeing him again. She wanted to hear his laugh, feel him ruffle her hair and call her 'Sparky' again. Tears fell down her cheeks as she looked at the golden bracelet she had made for the friend she had lost … again.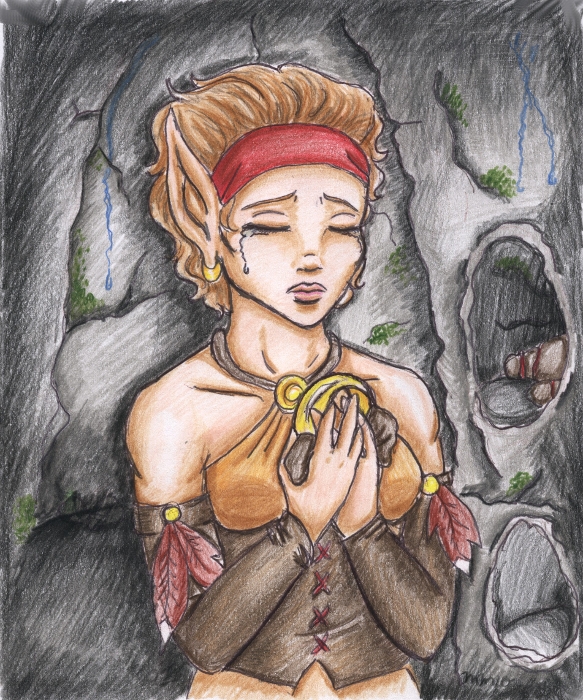 by Megan M.



Standing, she held the bracelet against her breast for a moment. Sniffling, she wiped her tears from her cheeks and went to work. She lit the forge first. She knew that, with the sun up, it might not be the best idea, but she wanted to get this done now. She felt as if something was pushing her to work, and Goldspice was never one to ignore the voice that, in her head, sounded so much like her mother. Her apron was hanging on a post on the wall. As the cinders heated, she pulled on her heavy boots and gloves, then wrapped up in her apron. It was made of heavy, cured leather and was specially designed with long sleeves and to be long enough to brush her toes.

Pulling her hair into a tight, high topknot, she put a kerchief over her head. She smiled wryly, remembering again the accident that had singed her eyebrows, eyelashes and hair, making these precautions necessary. In truth, it's what had earned her the nickname 'Sparky' from Fletcher.

Once her preparations were finished, she took the bracelet to the forge. Heating up the metal, she started to pound at it with a heavy mallet. She held onto one side of the metal with pincers and pounded it again and again, flattening the metal out. She continued working at the soft metal with techniques she had been taught, and ones she had perfected. Some saw her work as frivolous, sometimes, when she worked just to make pretties. Fletcher had never seen it as frivolous, had always encouraged her. These were the thoughts that swirled through her head as she continued with her work.

Once the metal was flattened into a round disk, she held it up to inspect it. Feeling that it was ready for the etching, she began slowly working with the hot metal to work the design that was in her head, in her heart, into the gold. Frowning a bit, she lay it into the water and waited to see if it was what she wanted. The water hissed and billowed steam. Patiently she waited. She had to time it perfectly: if she left it too long the gold would become brittle; not long enough and it would be too soft. Taking it out of the water at just the right time, she smiled. There, on a shining disk of gold, were two arrows crossing each other, a perfect design to symbolize her friend.

Nodding to herself, she let the disk cool completely on a rack. While it cooled, she cleaned up her forge. She liked to keep her workspace neat and tidy so everything could be easily found when she needed it. When that was done she took a leather strap and threaded it through the hole in the top of the disk and went outside. The sun was starting to set so she hurried to her den. She wanted to hang this on the wall of her den as a remembrance to the friend she had never gotten to say goodbye to properly, either time. But now, she knew that, somehow, he knew that she would miss him.


Collections that include this story: