---
With a look from the corner of his eyes Reed looked at Magpie, who was cuddling his just-found wolf-friend. A soft sigh escaped from Reed's lips, just when Magpie shoveled his nose into the hairs of Sneezerís neck.

Magpie pulled his nose back from the pelt and looked at his big friend. **Whatís wrong with you?**

**Nothing interesting to you!** Reed sent back.

**ĎCause, youíre my best friend, yíknow. That why Iím interested!**

**Your best friend! It looks like you have a new best friend!**

Now angry, Reed turned his back towards Magpie and looked over the sparkling river in front of him.

**Are you jealous?** Magpie sent.

**Jealous! Why should I be?** Reed sent back, while he turned back to Magpie, with an angry look in his eyes.

**You are jealous, Ďcause Iíve got a wolf-friend and you donít!**

**Iím just like you! Why donít I have a wolf-friend? Iím one turn of the seasons older than you are.**

**My dear big friend, you know I love you just the way you are. Youíre like a big brother to me. But when I look at you I donít see you with a wolf-friend.**

**Why not?** Reed sent.

**Bícause, friend of my heart. Iím a like a wolf: I hunt and I howl. Iím not thinking about the day that comes or the one that past. Youíre like the ground-digger. At night you den in the hole youíve dug in the ground, but at daylight you are way up in the sky. Youíre with your head up in the skies. Thinking of how to fill your belly with insects for your trek over Knife Peak when the leaves turn golden. You should have a bird, just like your sire has.**

**I donít want a stupid bird. I want a wolf!** Reed replied.

**Maybe someday youíll have one yourself. Until then, my dear Reed, let me be your best friend and we'll share Sneezer.**

Reed looked at Magpieís big brown eyes with a grim face. Then he gave him a punch on his shoulder and they laughed.

**You are my best friend,** Reed sent, and they both put their noses in Sneezer's fur.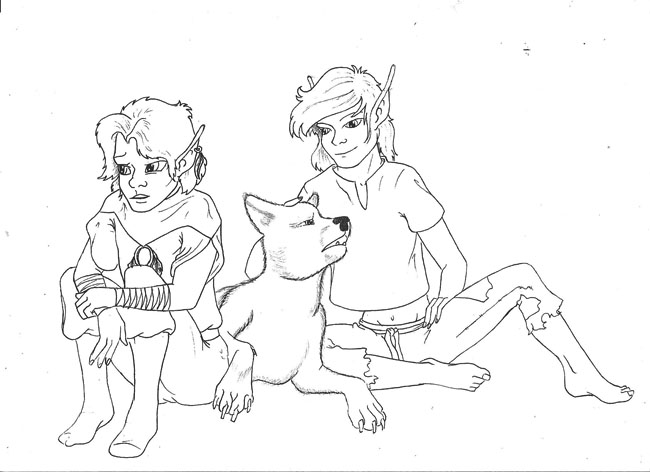 by Arthur