---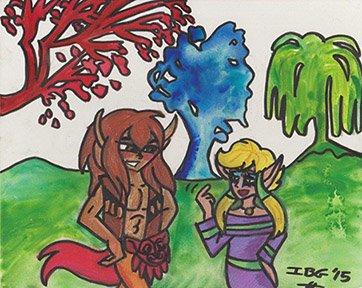 Illustration by Ingrid G.

"Come up and see me some time," Dreamflight purred to Notch. "I'm taking up painting and I'm doing a study on the male figure. I need practice," she breathed.

At first Dreamflight had taken up painting because Windburn painted. To her surprise she actually enjoyed it. And she also discovered that it came with perks of its own!

"I'll let you know when I'm ready for my first lesson," Notch replied with a smile.

"I thought you were the teacher," Dreamflight bantered back.

"No dear, I'm just the nude model!"

"What a delicious flirtation that was! I wonder when the first lesson will be?" Dreamflight whispered to herself. She now watched Notch walk across the way with revisited eyes. She had forgotten how well-proportioned he was, how tan his skin, and how graceful besides!

"Dreamflight," Windburn said behind her.

"Go away, Chief, you're bothering me," the young elf muttered, appreciatively watching Notch head towards the Dentrees.

"Dreamflight!"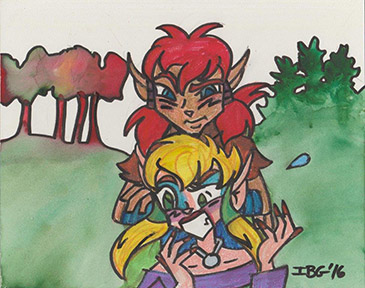 Illustration by Ingrid G.

She spun quickly around. "Huh? What? What is it?!"

Windburn pinched the bridge of his nose between his closed eyes. "You were thinking out loud again," he answered through gritted teeth.

"I was? What did I say?"

"You don't want to know," he growled. "But what I was going to say is I want you to help Nightstorm and Moss with the new batch of dyeing. I was going over to the Craft-trees to meet up with them now if you want to join me."

Dreamflight's heart leapt within her. Her heart's desire wanted her!

"Oh, sure!" she answered quickly, starting to follow him.

At that moment (as if on cue) Notch sent to her from her very den! **Are you coming? I'm ready to be studied.**

A sent image pulsed in Dreamflight's mind of a handsome nude elf in her bed-bowl with a fur playfully covering his waist. Her body's desire wanted her!

Suddenly sensing he was alone, Windburn stopped walking towards the Craft-trees and looked behind him. Dreamflight was still planted in the same spot where they started.

**Not now, Notch!**

**Yes, now!**

"Are you coming?" Windburn asked her Notch's very same question with a touch of impatience in his voice.

"Yes, yes, of course!" Dreamflight answered him, trotting to catch up.

**But I'm ready for art lessons. Now.**

**Later!**

**I don't know if I can wait that long!**

Dreamflight looked up to see Windburn regarding her with a critical eye.

"Distracted?"

"Only by a lot," Dreamflight admitted truthfully.