Pink 2339.07.21*
Written By:
Lyn Cavalier
(2009 March/April fic trade) Cloudfern encourages Beetle to experiment.
Posted: 04/24/09 [17 Comments]
---
"Papa, I'm bored. You've been organizing your herbs for moons and moons!" Beetle said, even though it had only been a few hours. "When are we going to do something fun?"

Cloudfern raised an eyebrow as he considered his daughter's statement. She had been having fun collecting and sorting various herbs and learning their uses, though she seemed to have forgotten it. Was something bothering her?

He set the pouch of fireweed aside and turned to face her. "What do you have in mind?"

Her eyes widened. "Well…" her voice trailed off.

"Well?"

"Well, you see… I have a bunch of dried bloodberries, and a few pipetree berries. I want to see what happens if…"

"What happens if what?" he asked. Beetle's curiosity was endless, and he had encouraged her to learn through trial and error and experimentation. The fact that she was hesitating should have made him wary, but he wanted her to try things—as long as they were safe.

"Well, I wanted to know what would happen if we made them into a powder, then added some sour apple-water and then," she giggled, "what would happen if we put the mix into your hair."

His mouth dropped open and his eyes lit up a little. "You want to dye my hair?"

"Is that what would happen?" she asked innocently.

"You want to dye my hair," he said with certainty.

"Can we, Papa? Please? I want to know what happens! I wonder what it will look like. Will it turn as red as the berries? Will it last? How long will it last?"

Cloudfern didn't want to discourage her and he hoped that the stain would wash out quickly. "What's the worst that could happen, right?"

"Right!"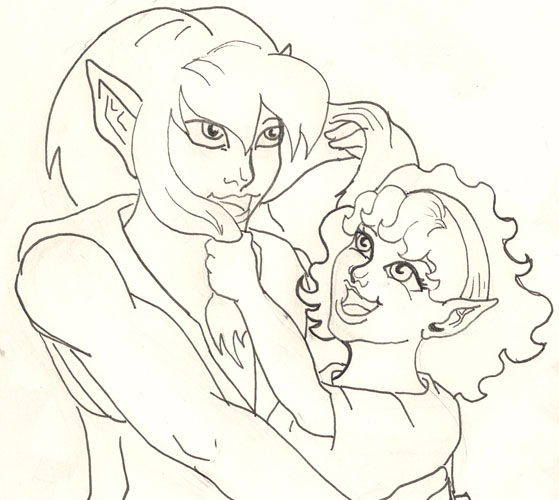 by Trena



The sound of howling alerted Cloudfern and Beetle that the tribe was gathering for a night of storytelling. He wondered what would be said about his hair. Beetle had finished her experiment and, from what he could tell of his wet hair, it was now a marvelous shade of bright pink. He knew it would fade with washing, but until it did he would have to live with the comments he knew would come. 'Ah, well, at least she's learned something!'

He looked at his daughter. She seemed to be looking at his hair with pride. She seemed excited to hear what the others would say about it. She smiled at him and said, "Let's go greet everyone and show them your new look!"

He groaned inwardly, but smiled at his daughter and put his arm around her. "Too bad your hair is so dark! It wouldn't take a color like this one!"

"Do you think we could find a way to make dark hair lighter?"

"If anyone could, dear one, it would be you!" He wanted her to learn, so he hoped that she would figure it out one day. At least he couldn't be the subject of that experiment.