---
Collections that include this story:
---
Starskimmer hummed to herself as she watched Blacksnake undress. He was always an eyeful, she mused, admiring the lean, familiar lines of him as he pulled off the dark green tunic, and the grey buckskin leathers. Even when her old friend's expression was as preoccupied as it was now, his thoughts no doubt ranging far distant, she admired how economical he was about the simple act. He didn't shed his clothing carelessly, like a youth rushing on to something new. No, he was precise and measured, no movement wasted, each article of clothing folded neatly even as it came away from his body, and set aside with care.

"Pity Farscout's not back yet," Blacksnake said, stripping off the last of his leathers, the wrapped bracers he wore. "He's built better for this."

"You say that every time, you know," Starskimmer chuckled at him. She dropped her websilk robe and stood naked in the moonlight. "Care to give a girl a hand?" she purred.

Blacksnake eyed her for a moment, smiling his faint half-smile, then deftly stepped toward her and combed the tangles out of her hair with his fingers. "We haven't got all night, you know."

"Pity, that," she laughed, enjoying the deft feel of his hands in her hair. "We'll just have to hurry, then."

Blacksnake made quick work of it, sweeping back Starskimmer's dark mane and pinning it neatly with an ivory pin. "Let's get this over with, then," he said, his breath a warm whisper against her ear.

Starskimmer nodded agreement, but stood her ground, watching as the grizzled hunter stepped naked into the still, calm pool of water. The water rose past his hips far too quickly for her tastes, as Blacksnake waded out toward the nearest clump of arrowhead plants. Starskimmer gathered up the small cattail basket she had woven, with its inflated bladder floats, and waded out after him, to feel after arrowhead roots in the mud with her toes.

If they worked together well enough, they could clear this pond of its harvest before the first of the moons had begun to set. Or at least as much of the pond as they could reach, before the water grew too deep. And of how well together they could work… well, of that, Starskimmer had no question.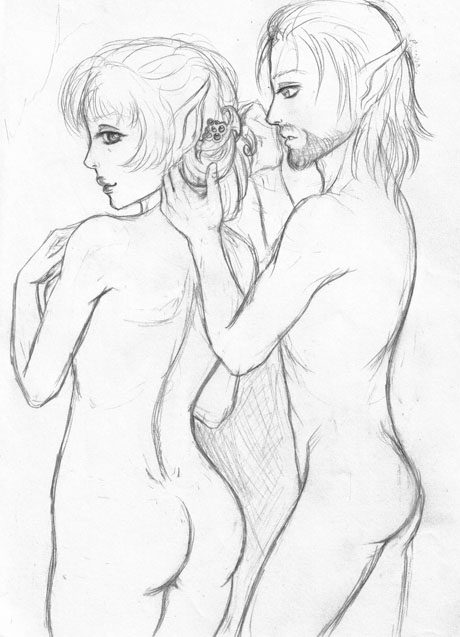 by Valkyrie
Collections that include this story: