Illo for "High-and-Low" (RTH 1725) (2012 Random Ancestor Contest: Blacksnake & Beesting playing a ga


Holly H.


Artist note: I was given "Blacksnake and Beesting, playing a game". After a lot of dithering, I decided to try to depict the game called "High-and-Low" on the wiki. It's kind of an obstacle-course race (sort of an elf steeplechase?) that can have extras added to it to spice up the competition: "sometimes the participants would burden themselves with packs, cups of water, one tied hand, or even another elf on their backs". Here, Blacksnake is still Ash, about 18, with Beesting within a year of his age, while Axehand and Melody are both in their mid-30s. My take on this moment is that though Ash may be in the lead, we can't really tell who's likely to win; I think Ash is more nimble but that Axehand could beat him if they hit a flat stretch. So clearly it's in Ash's best interests to NOT lead Axehand into a flat stretch. ;-) I wound up being very indebted to the work of wildlife artist Hayden Lambson for background inspiration on this one, and have now looked at a lot of pictures of people being given piggyback rides...

This is an illustration for the story "High-And-Low" (click to go to the story).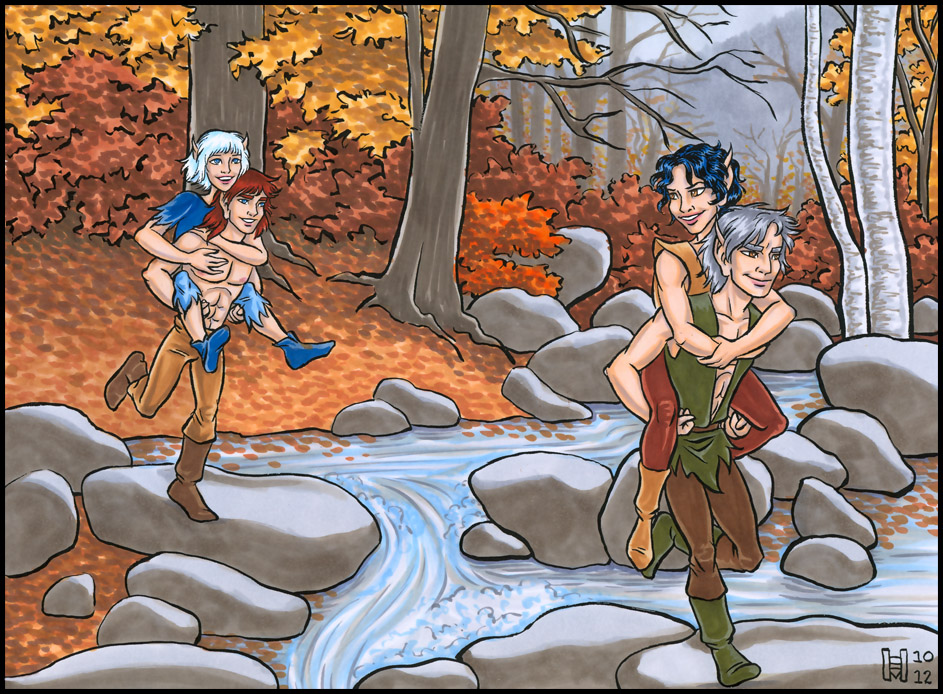 View/Add/Edit Comments
<< Previous Art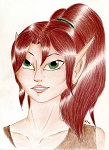 Next Art >>