Raven & Rhythm, crafting (RTH 1990) (2015 Random Ancestors Contest)


Holly H.


Artist note: This is part of the 2014 Random Ancestors Contest -- click here to see more entries!

Raven is using mallard duck wing feathers (from a part of the wing called the speculum, a portion of the secondaries) for decorating the finished drum, here. I looked at a bunch of refs for drum-making techniques to figure out how to show Rhythm at work.
View/Add/Edit Comments
<< Previous Art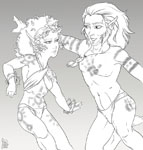 Next Art >>